Culinary Technique - Tempura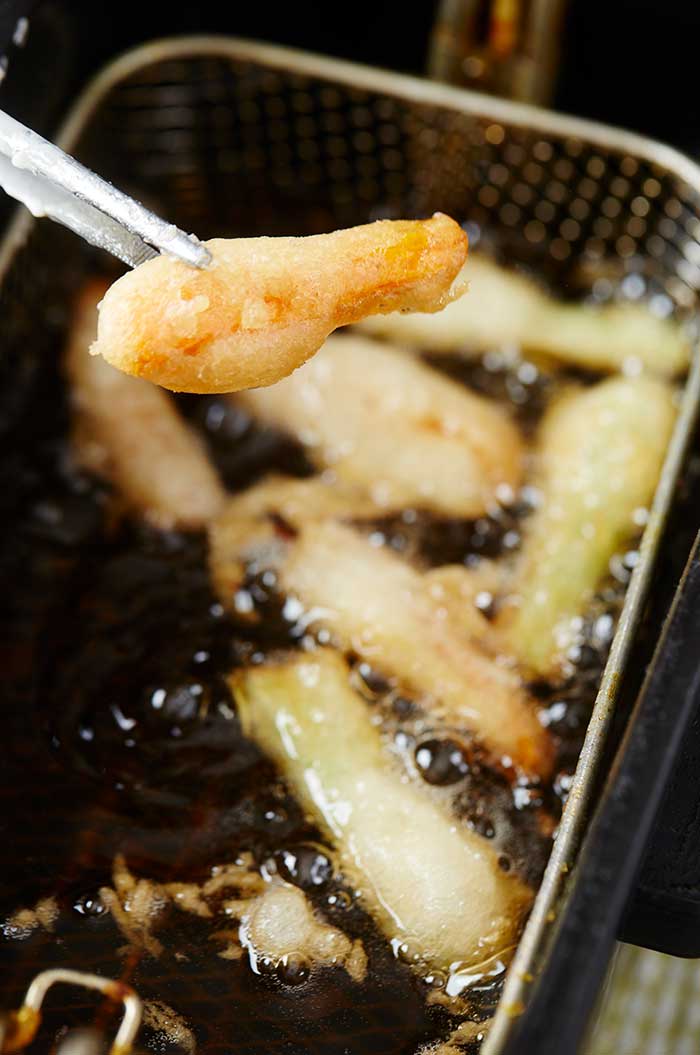 Tempura is the Japanese version of batter for deep-frying. It's quite light and forms a thin, crisp crust. You can buy ready-made tempura in the shops, but it's not too difficult to make from scratch. You need water, flower, corn starch, salt and pepper. The water must be very cold. Add the corn starch, the flour, a bit or salt and pepper to the water and mix it to obtain a smooth batter, neither too thick nor too liquid. If it's too liquid, add a bit of flour. If it's too thick, add some iced water. Keep the batter in the fridge until you are ready to use it.
Slice hard vegetables like peppers, fennel and carrots into sticks, strips or ½ cm-thick rondelles. Soft vegetables like eggplant and zucchini can be sliced a bit thicker. Divide cauliflower or broccoli into florets. Leave vegetables such as asparagus and snow peas whole.
Dip them in the batter, which must be quite cold, and drip off any excess. Fry them for about 3 minutes, until the batter is golden. Drain off the oil carefully before serving.
Technique:
Clean and wash the vegetables. Slice the hard ones into sticks, strips, or ½ cm-thick rondelles. Slice the softer vegetables a bit thicker. Separate cauliflower and broccoli into florets or keep them whole as needed.
Prepare a batter with iced water, starch and flour.
Dip the vegetables in the batter and fry them.