Who is Frank Fol
Who is Frank Fol, The Vegetable Chef®, initiator of the concept, project We're Smart® World?
Chef Frank Fol – former chef/owner of Michelin star restaurant Sire Pynnock - has, for more than thirty years, been really passionate about vegetables and all produce growing on our earth and his cooking was very much geared towards the use of vegetables and fruit.
A former star chef on the Belgian culinary theatre, today he is an international consultant on healthy, equilibrated and vegetal (as often as possible but not systematically) food. He consults, coaches and teaches workshops all over the world.
Without going overboard, he will include meat, poultry and fish in his dishes, but will always remain one of the most ardent defenders of the cooking style "vegetables first, followed by the other products". However, his dishes are more than a match for the best gastronomic tables or the new trendy – read « healthy » - restaurants.
Whilst promoting his slogan "Think Vegetables! Think Fruit!", he travels around the world sharing his approach to the kitchen of today and tomorrow's kitchen with his peers.
It is also a way for him to increase his produce knowledge and to be inspired by a contemporary way of cooking with vegetables. This way of cooking is beneficial for our bodies and of course for the future of our planet and our children, that is our future!
Finally, he did start up We're Smart World on a national level some years ago, but in 2018 he decided to go international with this ambitious project.
After the "paper" versions, this spring, Frank Fol, his team and the many supporters and sponsors proudly present the online We're Smart Green Guide. Add to this a smattering of personalities recognised for the dynamism and their 'green' projects both in Belgium and the rest of the world.
It is with great passion and hard work that he has managed to turn his passion and way of life in an objective for the future of our way of cooking.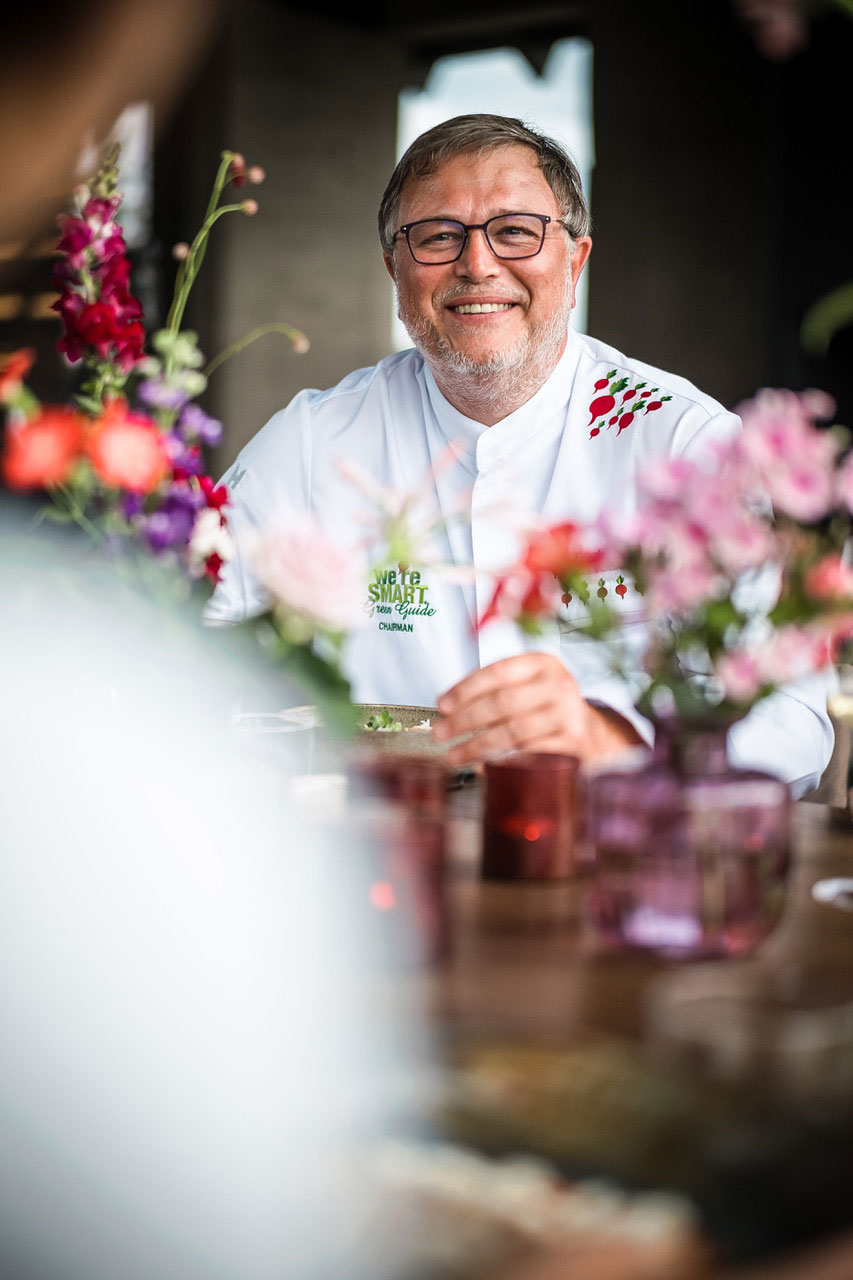 FRANK FOL TELLS US WHY HE WENT INTERNATIONAL
« Today, living a healthy and balanced life, aiming for sustainable resources and the daily protection of our environment, our planet, has become a major concern worldwide. It has become a major concern, even a necessity of our daily life. New initiatives and other projects for our daily life and the future of our planet see the light of day on a daily basis in all corners of the globe. I see this personally not just in my own home country, but in all the places I visit in my travels around the world. It is that observation that inspired me even more to widen my approach with We're Smart® World and the Green Guide. For me and all the people I met on my travels, it is a basic necessity and a valorisation of the work all these people do to promote this philosophy , that I decided to call the project « Think Vegetables ! Think Fruit ! ».
Work:
1989 - 2005: Own restaurant Sire Pynnock in Leuven
1983 - 1989: Souschef Villa Lorraine Brussels.
1982 - 1983: Cook in restaurant Astoria, Cologne - Germany
1981 - 1982: Cook in the restaurant L'Ecailler du Palais Royal, Brussels.

Internships:
1988: L'Espérance Restaurant, Marc Menneau, St. Pere s / Vezelay. France
1986: Restaurant Dominique Le Stanc, Monaco.1979: Restaurant Trooipeird, Bellegem
1985: Restaurant Le Moulin de Mougins, Mougins, France. At Roger Vergé, the French vegetable chef avant la lettre.
1980-1981: Restaurant La Villa Lorraine, Brussels
1980: Restaurant Tijl, Leuven
1979: Château du Saulchoir, Celles-lez-Tournai
Diplomas
2002: Wine ambassador of the year 2002, for the exceptional promotion of new world wines.
1998: 1st Michelin star
1997: Promise of the year for Flanders, Gault & Millau
1986: Maître Sommelier du vin de France
1981: 1st laureate master in the good kitchen, competition for young chefs up to 19 years.
Special activities
2012 -2021: President of The Mastercooks of Belgium® - www.mastercooks.be
2008 and 2012: Private Chef of the Belgian Olympic team for games in Beijing and London.
2000: member of the coach team "Flanders" for the international competition "Regional Flavors of Europe Cup" - winner Flanders "Most tasteful region of Europe 2000-2002.
1999 and 2001: member of the coach team Bocuse d'Or in Lyon.
1999: Radio section in Radio 1 program De Zuidkant.
1995 - 1996: Mondfol, own cooking program for VRT-TV1
1996 - 2000: International president Jeunes Restaurateurs d'Europe.
1992: Guest chef for the Olympic Games in Barcelona for the promotion of the Belgian Gastronomy and the Jeunes Restaurateurs d'Europe.
1990 - 1994: Founder and chairman of the association 'The New Generation - Young Restaurateurs of Belgium.

And also:
Already 20 years international culinary consultant for Exki, Belgian chain of healthy fast casual restaurants. www.exki.com
Partner in culinary projects CERA. www.cera.be
Inventor of the Légumaise, 100% vegetable vegetable sauce. www.legumaise.eu
Co-initiator Doozo, provider of balanced food packages - www.ekomenu.be
Composition of the diets in the polarity Dixie Dansercoer. www.polarcircles.com
Initiator contest "Best Vegetables Restaurants of the World", The Week of fruits and vegetables and "The We're Smart® Green Guide" - www.weresmartworld.com.
International info platform "We're Smart® World" around delicious, healthy, ecological and sustainable life in the world. www.weresmartworld.com
Permanent creative consultant for THALYS PREMIUM, www.thalys.com
and many national & international awards & recognitions. www.frankfol.be
World promotion:
Frank Fol announces his Think Vegetables! Think Fruits!® philosophy around the world. In recent years he has done so in:
Adelaide, Antibes, Argenta (Italy), Barcelona, Beijing, Budapest, Dubai, Hanover (World Expo), Hunter Valley (Australia), Iran, Crete, Kuala Lumpur, Lima (Peru), Los Angeles, Melbourne, Monaco, Mumbai, Namibia, Nazareth (Israel), New York, Paris, Paarl (South Africa), Pomplona, Prague, Sidney, Sofia, Tuscany, Umbria, Udaipur (India) and also at the European summit in Laeken (2001) with Pierre Wynants and during the governmental negotiations in Hertoginnedal (2007).
He already published more than 20 cookbooks around his philosophy Think Vegetables! Think Fruit!