Yornie van Dijk of Restaurant Basiliek* wins the first Green Chef's Hat
Yornie van Dijk of Restaurant Basiliek* / 5 Radishes from Harderwijk has become the first winner of the new 100% plant-based cooking competition the Green Chef's Hat. On 18 September, five contestants competed for the title at Gastvrij Rotterdam. The Gastronomic Guild organises this competition together with We're Smart Green Guide, known among others for Radishes.
During the final, the participants had to prepare a three-course menu and an amuse for the three-member top jury. The jury consisted of Frank Fol (Masterchef Belgium and initiator We're Smart Green Guide) , Albert Kooy (SVH Meesterkok and founder of Dutch Cuisine) and Michaël Vrijmoed (Masterchef Belgium, Restaurant Vrijmoed** and 5 Radishes).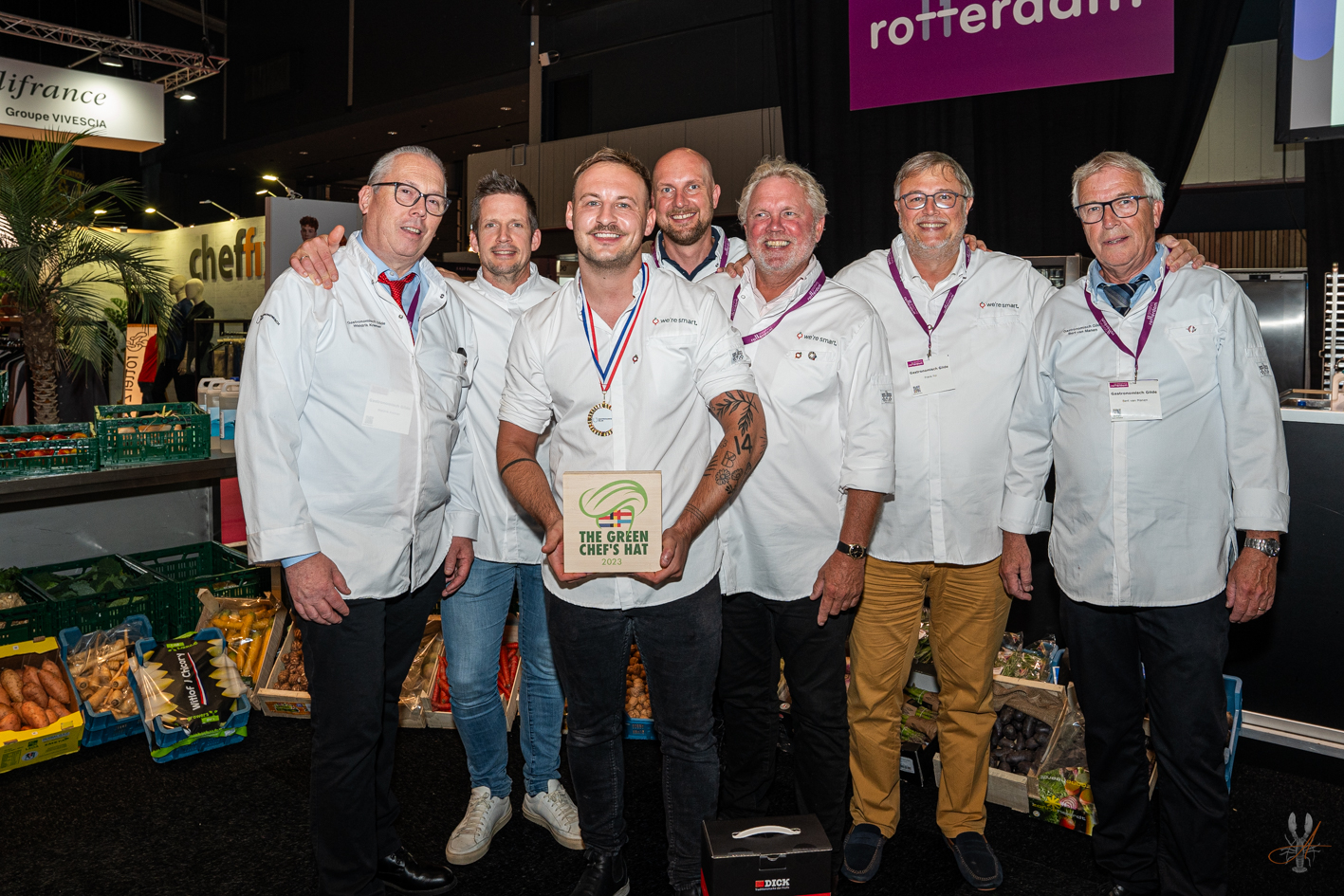 It was a spirited competition as all participants hold multiple Radishes awarded last week by We're Smart Green Guide for the best vegetable restaurants worldwide.
The contestants were evenly matched and one stunning dish after another came out of the kitchens. The judges were very impressed with the level.
Frank Fol, Initiator We're Smart Green Guide and Masterchef Belgium "It is very nice to see how the contestants find the balance between vegetables and fruit in the desserts, this is a great development because the dishes we tasted today could go straight onto the restaurant menu."
"The excitement reflected in the dishes was really beastly good!" Says jury member and SVH Meesterkok Albert Kooy.
Judge Michaël Vrijmoed was also enormously enthusiastic: "We tasted several beautiful dishes brimming with flavour and complexity that led to a very fine competition."
The first edition final of the Green Chef Hat was at Gastvrij Rotterdam and fair director Robert Melaart is immensely proud of it. "The Green Chef's Hat is really a competition that fits into the current zeitgeist where plant-based cooking is increasingly taking its place in gastronomy. On to the next edition!"
The Gastronomic Guild is very pleased with the course of the competition and the enthusiasm among chefs for this new competition. "Yornie is a real competition chef and it's a crowning glory to his hard work of last years" All the finalists have an excellent knowledge of flavour and the vegetable preparations they presented today.
Winner Yornie van Dijk was overwhelmed by the result. "I am extremely surprised and proud to be the first to receive this award. I hope I inspire all young chefs to enter the competitions"
From 1 October, it is possible to register for the preliminary rounds of the Green Chef's Hat that will be held at the HORECAVA in January.