Sustainability prevails at the biennial Worldchefs Congress in Abu Dhabi!
With its "Feed the Planet" project, Worldchefs wants to give a clear signal that it is time to treat our planet differently.
In specific terms, they do this by actively training new cooks around the world to cook according to the We're Smart philosophy Think Vegetables! Think Fruit!® to start cooking. Get them while they are young!
It is not without reason that Frank Fol is a member of the Feed the planet committee and was asked to give a number of lectures during the conference. We're Smart® World was highlighted and the 52 We're Smart culinary techniques for vegetables were also passed on to the young rising generation of chefs. Frank was assisted by the 5 Radishes chef Nicolas Decloedt from the Belgian vegetable restaurant Humus X Hortense. Together they brought a clear message about more culinary plant-based food.
Thousands of chefs from all over the world gathered here - young and more experienced - to fraternise and discuss new culinary trends.
This year, there was also a joint call for peace and to stop the war in Ukraine! The next world congress will be held in Singapore in 2024.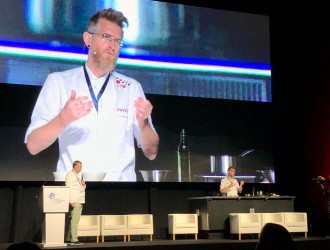 Nicolas Decloedt : "Sustainable fine dining is the future. We are very happy to share our long lasting knowledge about this with all our colleagues at the worldchefs congress. I'm striving together with We're Smart World to introduce intelligent plant based cooking into the culinary world."
Check out the recipes by Nicolas Decloedt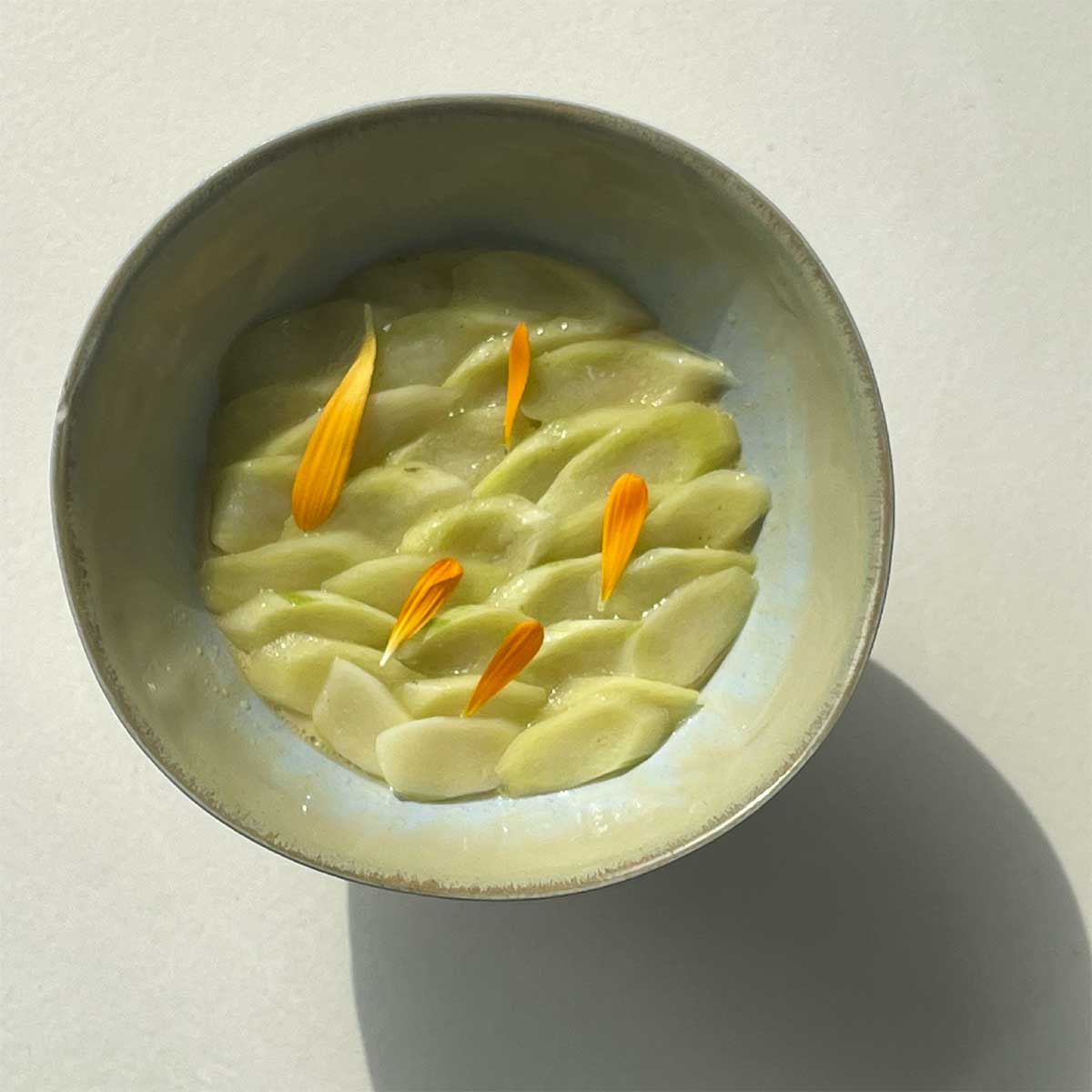 Leek Chawan mushi (4 persons)
40g melted leek in brunoise
200ml leek stock
75g soy milk
10g vinegar
10g sake
9g mushroom soy sauce
2g salt
12g shio koji
1,35g iota
80g leek marrow, gently cooked at 85°C
20g leek oil
10g vinegar
Put 10g of the melted leek in each bow.
Mx all the ingredients for the chawan mushi and heat till 80°C. Pour 50g in each bowl and leave to set.
Cut the leek marrow as thin as possible and cover the chawan mushi with the slices. Mix the oil and vinegar to a vinaigrette and finish the dish with this; add some flower petals on top.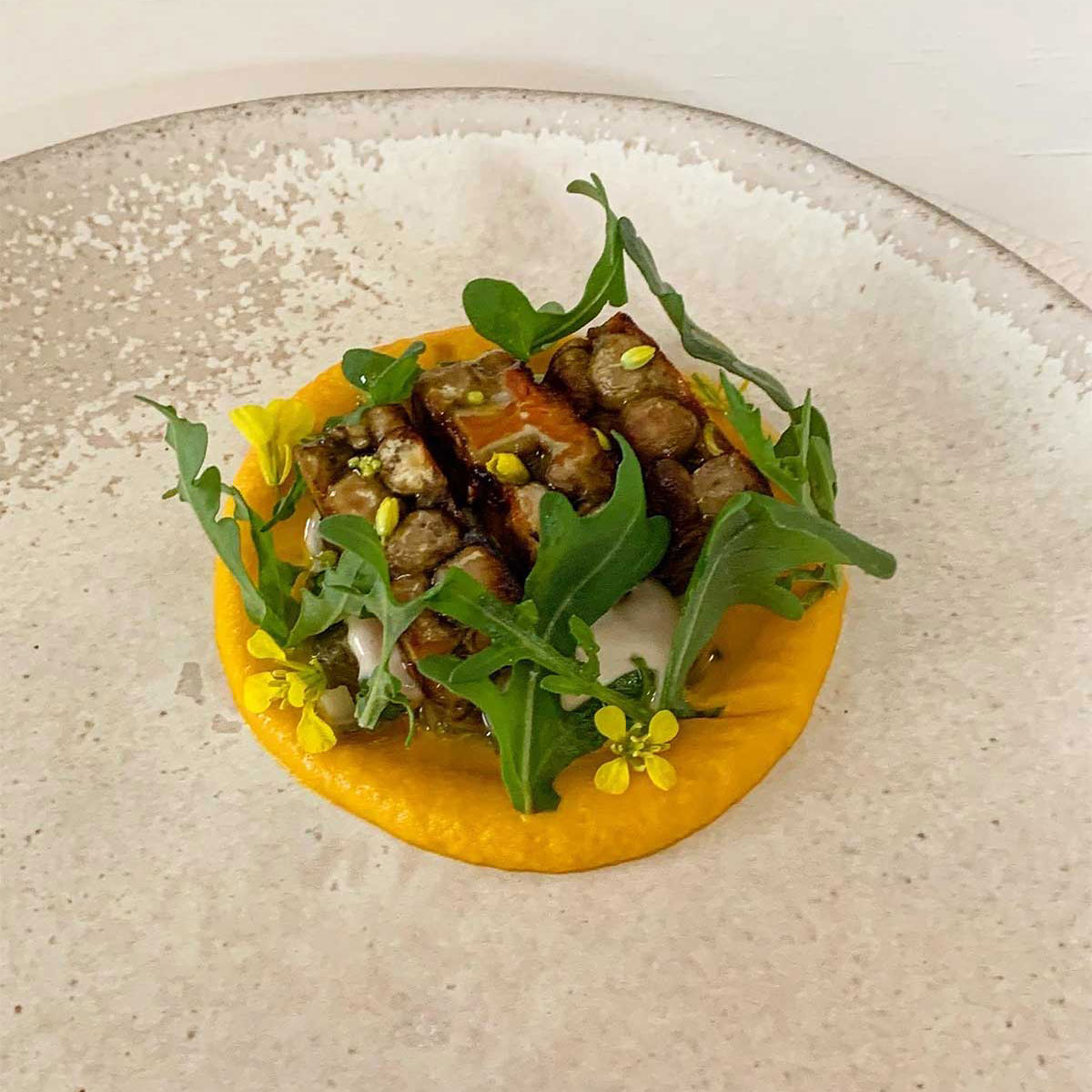 Chick pea tempeh
60g carrot puree
20g mustard mayonnaise
1 sprig of spring onion, chopped thinly
homemade capers
freshly picked arugula tops
flowers from the garden
20g canola oil
10g gueuze vinegar
1kg of chick peas, soaked overnight and cooked in stock
500g carrot "herb roasted" in the oven and chopped
1g koji spores per kg 
Take off the skin of the chick peas and leave them to cool down to 30°C.
Add the carrots, then add the koji and mix well. Put in a tray and inoculate for 48h at 32°C, leave to rest overnight in the fridge. Cut in squares.
Heat some oil in a cooking pan and fry the tempeh at all sides till golden brown.
Start the plating with the carrot puree and continue with the mayonnaise the spring onion, capers
Finish with the tempeh, arugula, flowers and vinaigrette
Some pictures of We're Smarts trip to the Abu Dhabi World Chefs Congress