Recipes episode 8: with guest Zakia Khattabi
Baked salsify, red cabbage-apple sauce, grilled buckwheat
ingredients for 4 persons :
4 to 8 salsify
Cooked red cabbage with apple
4 Coffee spoons of grilled buckwheat
Some chives
1 Lemon
Rapeseed oil
Black pepper, sea salt
Peel and wash the salsify; cut into equal bars of about 7 to 8 cm. Put them in water with salt and some lemon juice.
Mix the red cabbage-apple preparation with a few drops of lemon juice, a good splash of water and some rapeseed oil into a nice purple sauce. Heat up.
When the salsify pieces are cooked, remove them from cooking water and dry them with kitchen paper. Now fry them brown on both sides in some rapeseed oil. Season well with pepper and extra salt if desired.
Put the hot sauce on the plates and divide the salsify on top.
Finish off with some chives and toasted buckwheat.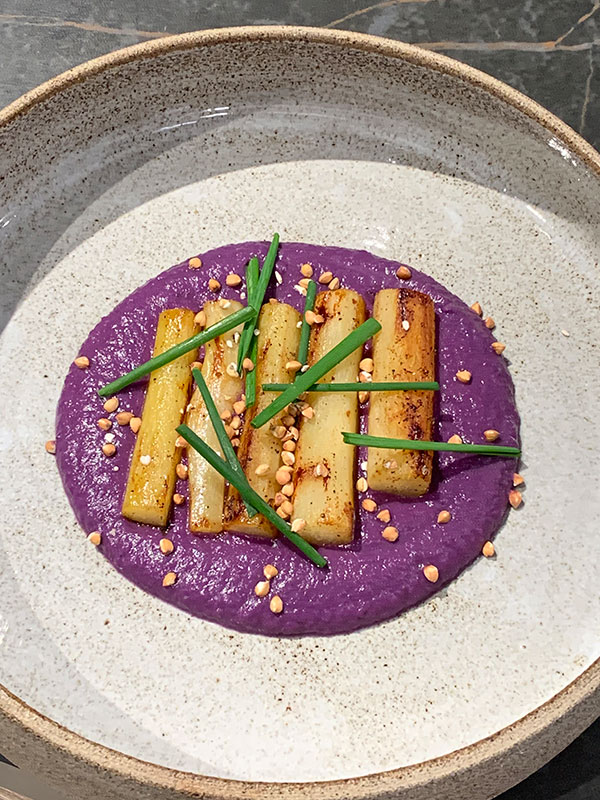 Small lamb's lettuce, raw pear, cranberry vinaigrette, hazelnut
ingredients for 4 persons :
100 g lamb's lettuce
1 ripe pear of your choice
60 g Dried cranberry
A few drops of apple vinegar
A dash of rapeseed oil
A few hazelnuts
Red beet cress (optional)
Black pepper, sea salt
Peel the pear and cut into 4, remove the core and cut the flesh into strips.
Put some drops of apple vinegar on it and let it marinate.
Mix corn salad with dried cranberries, rapeseed oil and season with pepper and sea salt. Divide between the 4 bowls.
Now place the pear on the salad.
Finish with pieces of hazelnut and some cress.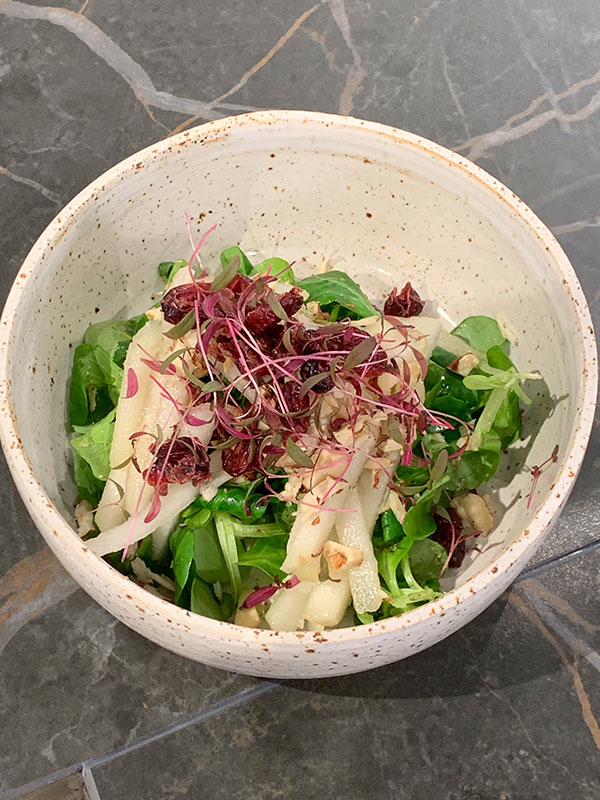 Chocolate dip with pumpkin & spinach chips
ingredients for 4 persons:
50 g Coconut milk
1 Small butternut squash
50 g bitter chocolate
20 g fresh spinach
40 gr grated coconut (fresh or dry)
Place spinach on a plate in the micro-wave. Put it on 600 W and let it go until spinach has dried out. Then blend into spinach powder.
Wash pumpkin, cut into wafer-thin slices (with or without skin) and fry at 140°C until crispy. Can also be done in an oven at 100°C.
Melt chocolate in a bain marie and then add the coconut milk. Stir well and add extra water if necessary to obtain a runny sauce. Leave to cool.
Place the pumpkin chips on a plate, sprinkle with spinach powder and coconut. Dip into the chocolate and enjoy.