Jerusalem artichoke risotto with shallot, pumpernickel crumble, cress
Ingredients for 4 persons:
400 g Jerusalem artichokes
2 slices of pumpernickel bread
1 punnet of cress
150 g Légumaise Périgord
1 to 2 shallots
Rapeseed oil
Black pepper from the mill
Sea salt
Peel Jerusalem artichokes (except for 1 piece) and cut into small cubes of up to half a centimetre. Peel and chop shallot. Stew this together with some rapeseed oil. Season with pepper and sea salt. Cook until crispy.
Dry the bread in an oven at 100°C. Then cut and chop into a pumpernickel crumble.
Divide the warm risotto on the plates, divide the crumble and the cress over it.
Peel the last Jerusalem artichoke and grate some raw Jerusalem artichoke over the dishes and spoon the Perigord légumaise over it.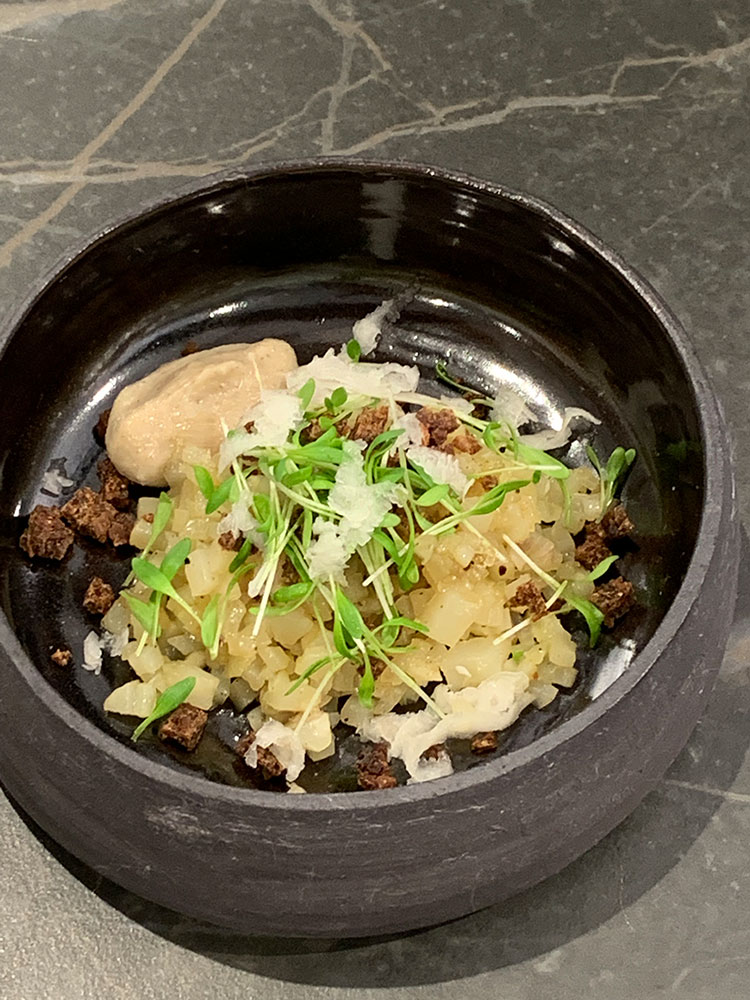 Spinach-celeriac soup with garlic, hazelnut and linseeds
Ingredients for 4 persons:
100 g young spinach
200 g celeriac cubes
1 large onion
1 clove of garlic
a few hazelnuts
linseed
black pepper from the mill
bay leaf powder
smoked sea salt
Make a soup of celeriac, onion and garlic by cooking them with water and some smoked sea salt and bay leaf powder. When the celeriac is cooked add the fresh spinach and hazelnut and blend into a soup.
Chop up some fresh spinach.
Divide warm soup between the 4 bowls and finish with the spinach chiffonade & some lineseeds.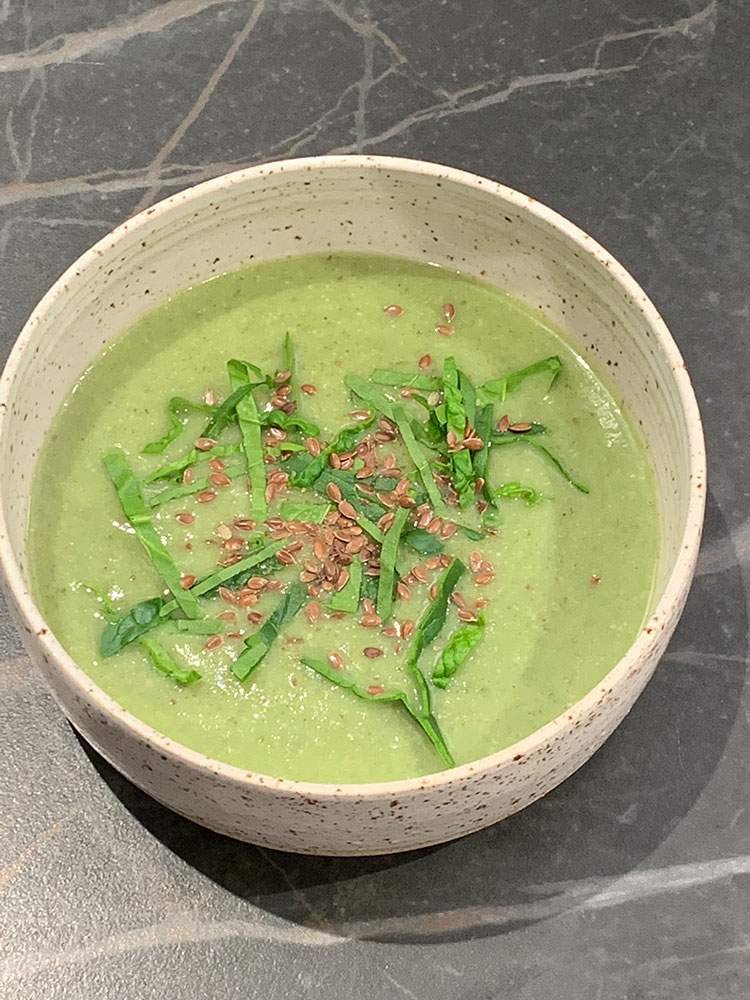 Mango turnip tartare with lime & dill on toast
Ingredients for 4 persons:
1 ripe mango
2 Turnips
Fennel seeds
1 lime
A few sprigs of fresh dill
Olive oil
Black pepper, sea salt
Toasted bread

Peel turnips & mango. Then cut everything into cubes.
Add some fennel seeds to taste, black pepper and salt, finely chopped dill, lime juice and a dash of olive oil.
Toast the bread and cut rectangularly.
Now place the tartare on the toasts and enjoy this aromatic finger food.