Recipes episode 10: with guest Bertrand Delporte
Oxheart cabbage- yellow beetroot salad, minneola, flowers, sage chips
ingredients for 4 persons :
1 large yellow beetroot
1 Small pointed oxheart cabbage
1 Minneola citrus
Fresh edible flowers of your choice (red)
Fresh sage leaves
Olive oil
Black pepper, sea salt
Wash and finely chop the pointed cabbage.
Peel and finely slice the yellow beetroot as well.
Mix cabbage & beetroot together and season with juice of minneola citrus, olive oil, black pepper and sea salt. Divide between the bowls.
Fry some sage leaves at 140°C until they are crispy, put them on kitchen paper and sprinkle a little sea salt on them. Break and distribute them over the salads.
Finish with some flowers.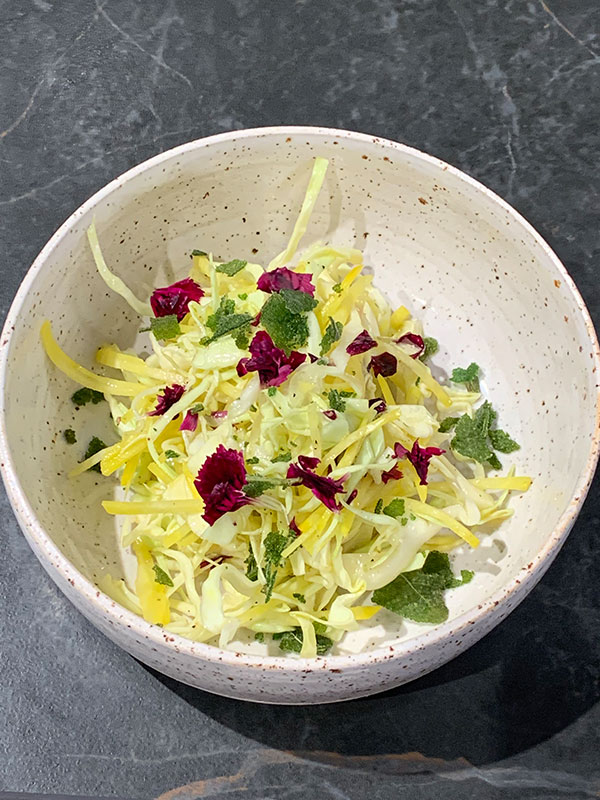 Carrot sandwich, Legume carrot, mint, cashew nut, papaya
ingredients for 4 persons :
2 large carrots
150 g Légumaise Brabant
40 g Dried papaya
1 lime
2 sprigs fresh mint
Black pepper, sea salt
Peel the 2 carrots. Use slicer to cut fine slices. Cut as many as you want, the rest of the carrots may be cut into a fine brunoise.
Keep the slices in ice-cold water with some salt, the brunoise in a bowl.
Now mix the légumaise Brabant, some finely chopped mint, a few drops of lime juice and finely chopped dried papaya under the brunoise. Season with salt and pepper.
Leave to marinate for a while and then make small sandwiches with the carrot slices and the filling. Serve as finger food with the aperitif.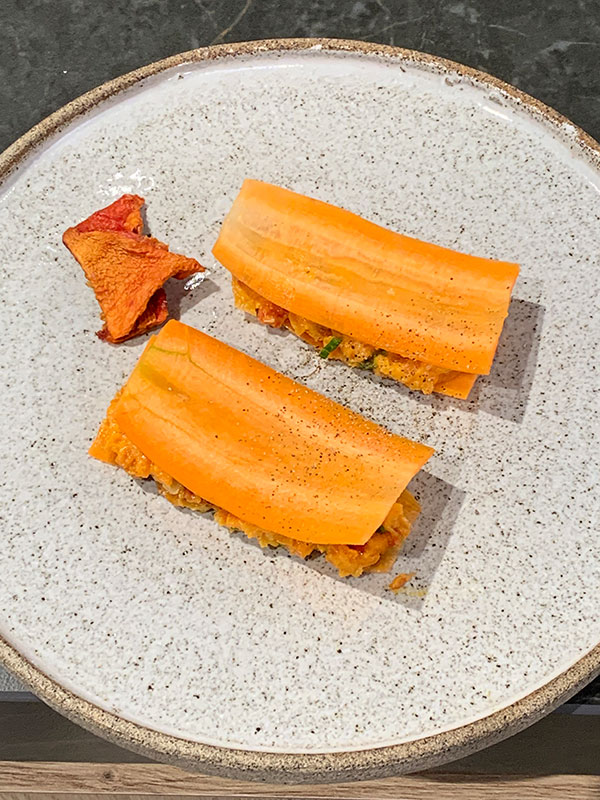 Baked squirrel bread, spinach coulis with garlic, hazelnut
ingredients for 4 persons :
4 large king oyster mushrooms (eryngii)
Olive oil
60 g fresh spinach
Clove of fresh garlic
1 shallot
40 g hazelnut
Cress of your choice
Black pepper, sea salt
Cut slices (nuts) from the stems of the mushrooms, visually like a Jacob's nut. Cut the remaining mushrooms into a small brunoise.
Peel and finely chop the shallot. Sauté this with the mushroom brunoise and season with salt and pepper.
We save a few spinach leaves for later. We briefly stew the rest of the spinach leaves in a splash of water and then mix with the clove of garlic and a splash of olive oil to create a green coulis.
We chop the spinach leaves and hazelnuts very fine.
We now fry the mushroom nuts in some olive oil so that they are nicely coloured on both sides and seasoned with pepper and salt.
On each plate, we spoon some sauce, next to it the stewed mushroom mix. On top of the sauce, we place fried mushrooms side by side.
Finish with fine spinach and hazelnut, as well as the cress.