In these turbulent times, we are even more aware of our health than usual. On the one hand not being infected by Corona and on the other hand making sure we live extra healthy lives. Nutrition is the most important pillar of a healthy lifestyle, in addition to exercise and relaxation.
In the old days, a long time ago, we ate pure unprocessed food. Mostly vegetable-based, and occasionally meat. We ate with nature and the seasons. By nature, our food was organic. Food was not only our fuel, it was also our pharmacy.
Nowadays we eat a lot of processed food, we have no idea of the season or origin. We are no longer guided by nature but by what the supermarket has to offer. Do you manage to get the supermarket to the cash register in one piece? The result is that we are too fat, have high blood pressure and/or suffer from a chronic disorder.
The solution to our health problems is nowadays fully sought in medical treatments and medication. While there is abundant scientific evidence, and full acceptance by representatives of the food and healthcare sectors, that you can treat various disorders wholly or partially with food. Such as Diabetes Type 2, High Blood Pressure, Cardiovascular Diseases, Kidney Diseases and Bowel Diseases.
In the Netherlands only 11% of income is spent on food (in Belgium this is somewhat higher), while we spend no less than 15% of our national income on care and medicines. This is the world upside down. Let's use food to prevent chronic diseases, and let's also use food to cure diseases. This used to be common practice in pharmacies (with plant extracts and herbs as an important source). it is not for nothing that the doctor writes out 'prescriptions' (medicines) to his patients. Back to the true nature of prescriptions! On to the Green Pharmacy.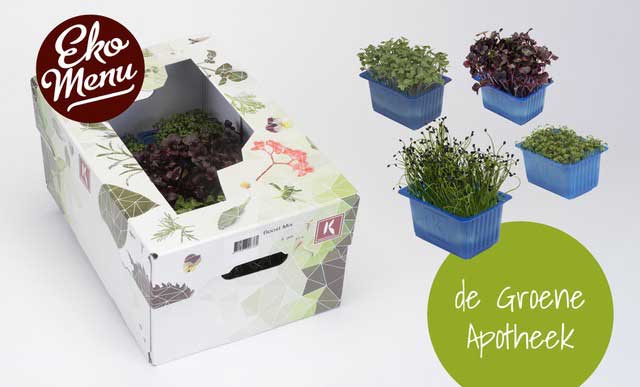 ​
​
Ekomenu is therefore introducing the 'Green Pharmacy' in collaboration with Rob Baan of Koppert Cress. Healthy sprouting vegetables that give an extra boost to the flavour and nutritional value of our dishes, thereby helping to increase our resistance:
The sulforan in Broccocress is pre-eminently anti-inflammatory, broccocress is also rich in vitamins B6 and C, folic acid and molybdenum. It is also a source of B1, biotin and pantothenic acid.
Sakuracress is rich in vitamins B6 and C, biotin, molybdenum and anthocyanin. It is a source of vitamin B1 (thiamine), phosphorus and manganese. Garden Cress is rich in vitamins C, E and K. It is also a source of folic acid, biotin and molybdenum.
Rock Chives (garlic/chives flavour) is rich in vitamin K, folic acid, manganese and molybdenum. And it is a source of vitamin E and vitamin B1 (thiamine), calcium, copper