The time has come: Ekomenu has a new look! Behind the scenes, Ekomenu has worked very hard for weeks to create something beautiful. And we are prouder than proud.
Is something going to change at Ekomenu?
The answer is NO. Ekomenu remains the same in the basics: 100% organic, lots of vegetables, little plastic and great meals. Only the jacket that Ekomenu wears is new
Change for more positive impact!
Ekomenu has grown in recent years, staying small at heart. That will never change, but we want to tell even more people about our message, about our mission. To let even more people - in their own way - live healthier and tastier lives. That is possible in this new jacket.
Healthy food that makes you happy.
Eat in with the only 100% organic meal box in the Netherlands and Belgium. Choose from no fewer than 25 of the tastiest recipes, with extensive variety and ultimate convenience. This while also taking good care of your body, a clean soil and contributing to a positive impact on the climate.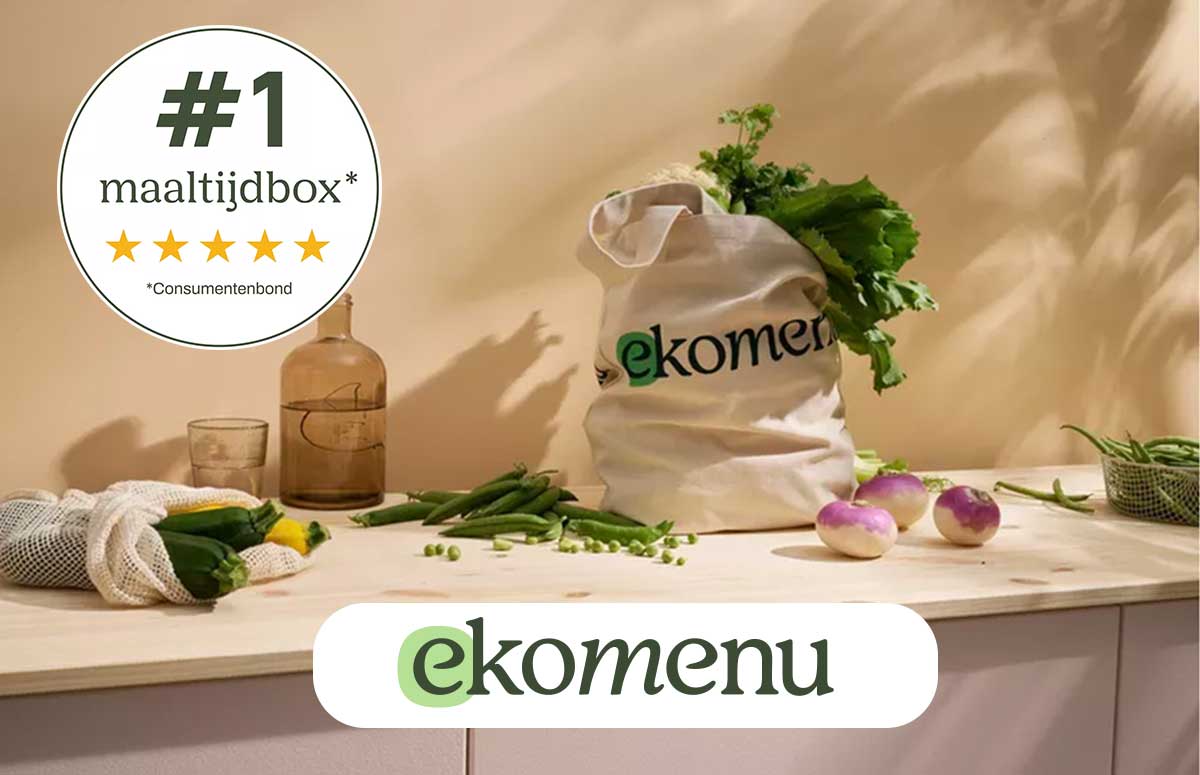 Ekomenu's mission is 'changing food behavior' in order to make a major contribution to the health of citizens / consumers and the health of our planet. The desired behavioral change is fully in line with the Green Triangle as recently introduced in Belgium. Large steps are needed for this. Information has a limited impact, but it gives direction to initiatives such as that of Ekomenu. The consumer is buried daily under unhealthy advertising: The red dot next to the green triangle contains an estimated 80% of the advertising in the food industry, the healthy green triangle itself only 20%. Fruit and vegetables have only 0.1% of the total food advertising budget in Europe, less that there is available for a Mars chocolate bar ...
That is why Ekomenu does not believe in the traditional forms of shopping. Meal boxes offer unique opportunities to bring consumers into a healthy routine. In this way a healthy lifestyle becomes not only an information message but also actual behavior. After use for a few months, consumers can continue independently with the knowledge they have gained. The experience is that 3 to 4 deliveries are needed, if one is through it is likely that one goes on for a long time. If one does not go through then one has at least gained knowledge and experience that one can continue to apply.
In order to make this concrete, we work together with Frank Fol - The Vegetable Chef® - and the philosophy of Think Vegetables! Think Fruit!® the guarantee to success! Finally, Ekomenu believes in the healthy of organic, not only because of the healthy nature of the products, but also because of the contribution to healthy soil.
Ekomenu offers flexible memberships where customers can stop or pause every week, with nothing attached to it. The advantage of a membership is that you choose 'mental' for a diet, a rhythm, a repetition. Ekomenu also offers one-time test boxes, which offer the customer an introduction. "
I try it now and order on www.ekomenu.be!